Terry right behind Capello
Three Lions skipper calls for country to be united behind Italian tactician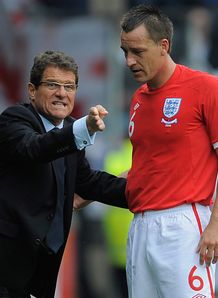 Reinstated captain John Terry is adamant that Fabio Capello is the right man to lead England to glory at the 2012 European Championship.
In the build-up to Saturday's clash with Wales in Cardiff the
Chelsea
defender has spoken of how his relationship with Capello is stronger than ever.
Capello has already stated he will quit his post after the Euro 2012 finals, assuming England qualify for Poland and Ukraine.
But
Terry
is adamant that has not affected Capello's determination to be a winner and that he still demands the best from his players as demonstrated in training ground rollickings this week.
Terry said: "I don't think we are in need of a change (of head coach). As a nation, we suffer that a bit even in the Premier League with the big teams.
"The only one who doesn't suffer that is
Sir Alex Ferguson.
Even at Chelsea you get that when you lose a few games.
"People are saying about Carlo (Ancelotti) losing his job which is ludicrous after everything he's done the year before (winning the double) and the respect the players have for him.
"It's very much the same here. Fabio is the man in charge and will be until after the Euros.
"We firmly believe, he firmly believes, that we can still improve and must improve in this campaign leading up to that tournament."
No problem
Terry added: "It does not affect the players to know Fabio will be going after the Euros.
"It's the same with players. I know players at Chelsea with a year left on their deals. Who knows what could happen?
"He's come out and said he's going to leave but, as players, you learn to deal with things like that.
"People leave, whether they're managers or players. It's something in the environment you deal with.
"There's a determination from him. It's been there on the training pitch this week.
"I've seen things saying he doesn't really care, but it's the complete opposite.
"We've had meetings, we've had training sessions. He's lost his rag in training a couple of times, even in fairly light sessions where he's been cheesed off when we haven't done what he's asked.
"That hunger from him rubs off on the players. He's still got that hunger."
Terry has been chosen by Capello as his permanent captain for a second spell after being sacked from the role just over a year ago.
Mutual respect
The central defender is adamant the relationship between the pair has not been affected.
Terry said: "I had nothing but respect for him, and that's not changed.
"That's mutual as well, given the decision he's taken. I meant what I said about him.
"He's so desperate to win, so the respect is there.
"People thought there was this big falling out, but it wasn't the case. It probably brought us closer actually.
"It says a lot about what he thinks is best for the side. On a personal note, it's touching as well.
"He'll get nothing less from me on the training field and on the pitch, which he has done since he took the captaincy away from me. I'm delighted to be reinstated."